SEO Trends for 2022 – Experts Weigh In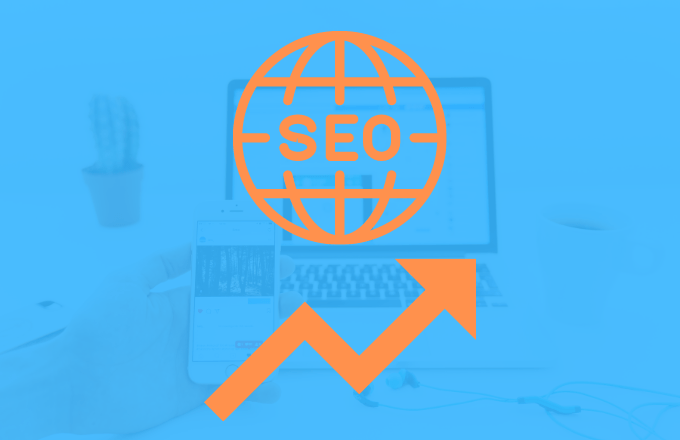 SEO is constantly changing, algorithms altered, guidelines shifted and a landscape that is notorious for flipping at a moment's notice. This means that SEO trends are always occurring.
But in the face of this, organic search traffic is still one of the most valuable and stable sources of customers and leads for businesses across the globe, with this we can narrow down some SEO trends for 2022.
As we launch in 2022 it's clear to see the important role that Search Engine Optimisation plays in the business world has not weaned, in fact, it has grown stronger thanks to the rapid shift to an online-first mentality. But what are the key things to look out for in 2022? We asked SEO Experts from around the globe what they're focusing on in the next 12 months.
Page Experience & Core Web Vitals
When examining the SEO Trends for 2022, we need to look backwards – One of the biggest landmarks in the SEO Calendar of 2021 was Google' Page Experience' update. This was one of the most significant alterations to Google's algorithm in some time as the search engine behemoth now gives websites an overall 'page experience' score. This update is still being rolled out, with Google announcing that it would only finish adding the total page experience ranking signals to desktop sites by the end of February 2022.
As an SEO expert, in 2022, I see page experience update and core web vitals essential because in today's day and age, when many websites show the same results, you must be able to distinguish the more experienced websites from the other. The same goes for EAT, which in addition to keeping the results relevant, ensures that the websites that gain popularity on Google can be trusted. – Nathan Huges, DiggityMarketing.com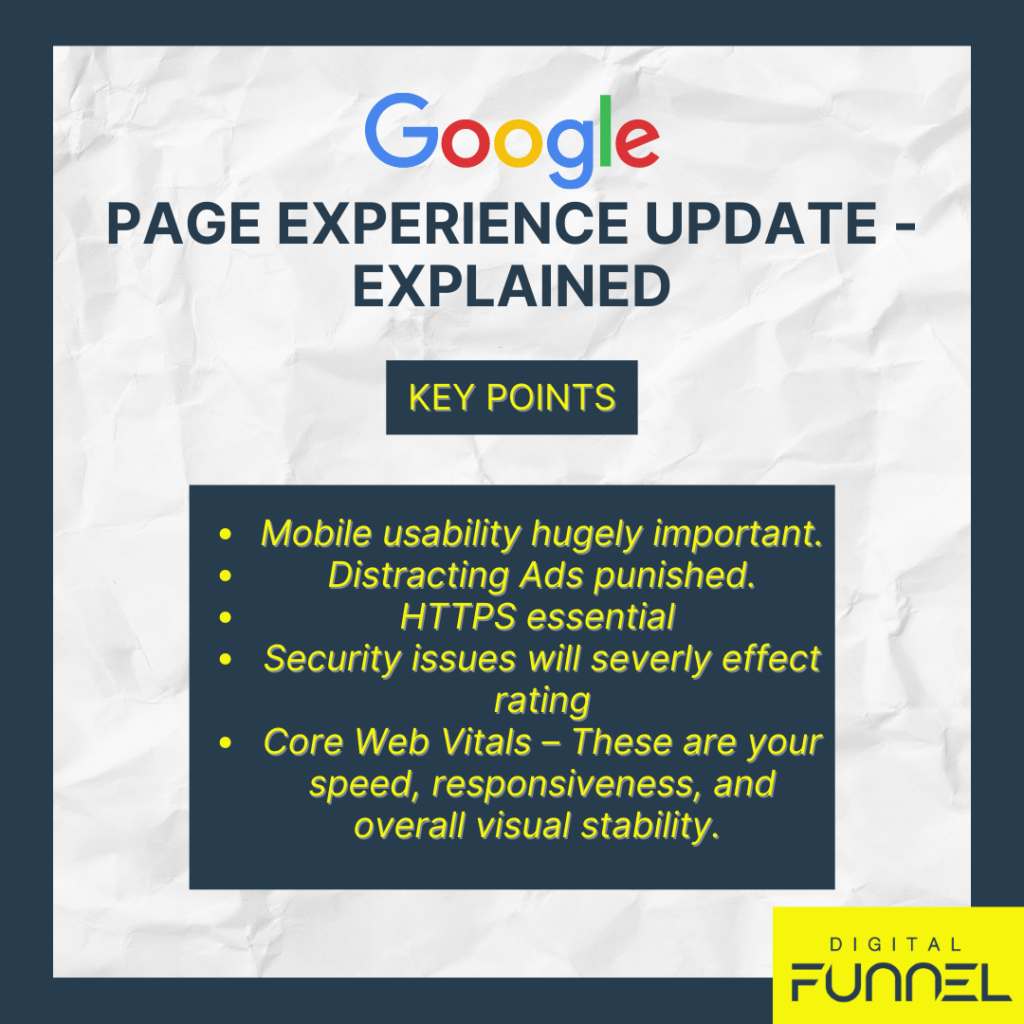 If your overall user experience isn't exactly up to scratch, don't panic! You still have time and Google has also noted that there is some amount of leniency, so there's no need to fear sudden and drastic drops in rankings –
"While page experience is important, Google still seeks to rank pages with the best information overall, even if the page experience is subpar. Great page experience doesn't override having great page content. However, in cases where there are many pages that may be similar in relevance, page experience can be much more important for visibility in Search."
So what are the signals of a positive page experience and why is this one of the biggest SEO trends for 2022? Firstly, the all-important Core Web Vitals. This determines how good of an experience a user has on a webpage, focusing primarily on visual stability, loading times and interactivity.
Largest Contentful Paint (LCP): This measures site loading performance, Google states that LCP should occur within the first 2.5 seconds of a page loading.
First Input Delay: This deals with interactivity, with an FID time of fewer than 100 milliseconds required.
Cumulative Layout Shift (CLS): Finally, these measures total visual stability, Google determines a CLS score of less than 0.1 to be the benchmark.
"SEO in 2022 will see a major shift toward user experience based factors. In 2021, especially toward the end, we saw a lot of UX based algorithm changes. The biggest change to note was the focus on page speed elements like First Contentful Paint, Largest Contentful Paint, and Cumulative Layout Shift.

The introduction of a new artificial intelligence (AI), MUM, will also be a major contributor to this, with MUM studies at Google indicating the AI will be able to 'see' images, and get a better idea of search intent as well as context behind search terms." Steven Jaenke, Digimark
If you're concerned about Core Web Vitals, Google has provided a handy tool for measuring and monitoring all of the above.
Expertise, Authority, Trust (EAT)
When discussing SEO Trends for 2022, you can't ignore the expertise, authority, and trust model. EAT refers to three elements that Google uses to determine the actual relevance and quality of content that features on a website.
During the past three years, working for dozens of brands in the health industry, at Vine Digital we have seen the rise of the importance of E-A-T.

All the pieces of content published on our clients' websites that were slightly out of topic, or that were a little too broad have lost all their traffic and positions. Even articles that used to drive thousands of users to websites in the past.

Influencing E-A-T and focusing on topical authority are the two core elements of our SEO strategies for our clients.

All the other metrics or factors are meaningless in comparison, especially in the health industry. – Sofiann McKerrell, Vine Digital
In recent years Google has been placing far more of an emphasis on content relevancy, with websites that provide highly topical content within the E-A-T framework tending to be rewarded. Let's break it down –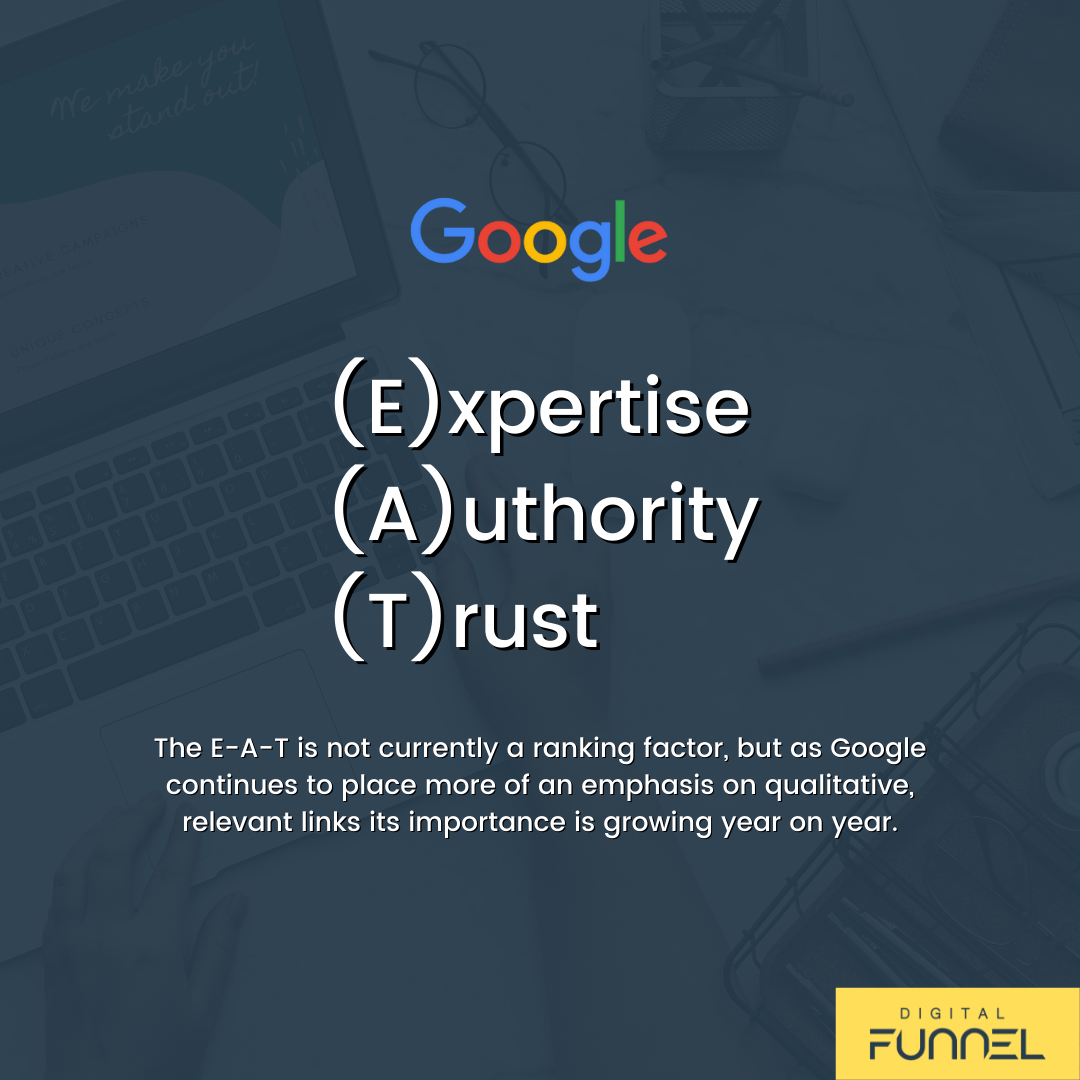 Content has to be accurate, truthful, useful information. It's not about Google. It's about the users. If they land on a website looking for information on how to remove wallpapers and the guide is about choosing a wallpaper design, they'll be disappointed. If they read that information on a website that sells lightbulbs, they wouldn't find it trustworthy. Google's trying to mimic that behaviour. This is nothing new. For years we see that the content around core topics of the businesses is performing better than the topics that are not related to the business – Martina Nakov, Best Response Media
Expertise – This directly correlates with the depth, time sensitivity, relevance and accuracy of your content. You may be an expert in your field, but if you don't properly convey this information on your website it's all meaningless jargon that won't drive traffic to your site. Prior to publishing content, you should always ask yourself the following: Is my content showcasing my knowledge properly? Is it engaging? Am I answering my customer's questions or am I meeting their needs?
Authority – Placing yourself as an expert in your industry is one thing, but to become an actual authority you need to have the citations and recognition to back it up. When your content gets linked or shared on social media by peers and other industry experts, your own brand begins to grow and your site becomes more authoritative in Google's eyes.
Trust – This has more to do with social signals than the other two factors. Negative reviews regarding your business online can harm your ranking, Google has previously said that too many negative online reviews are a direct indicator of poor quality. It's imperative then that you focus on bolstering your positive online reviews across Google, TrustPilot, Facebook and any other relevant niche review sites.
"Given the focus on reviews and building trust in 2021, this will be a key focus in 2022. From expanding featured snippets and showcasing more review data in SERPs, SEOs need to focus on evolving our content and sites to stay relevant with Google's updates." Brodie Ranson, Reload Media
It's important to note that EAT is not a ranking factor, but it is a criterion that is growing in importance as Google emphasises quality over quantity more and more.
I expect Google to continue giving E-A-T factors added importance. They will probably implement this trend not only for YMYL sites but also for all other types. So SEOs will have to pay more attention to showing expertise, authority, and trustworthiness on their websites by creating a detailed "About Us" page with a description of the project, managing and improving company reviews, achieving awards accolades, etc. – Muskan Rai, Web Hosting Advices
"Toxins", Spam, Stuffing & More – Key SEO Trends for 2022
Perhaps the bane of any trustworthy SEO company's existence is the endeavours of those black-hat SEO organisations, the keyword stuffing, link farming bad eggs. Google has been making huge strides to seriously punish such techniques and these efforts ramped up even further in 2021. In November of last year, a spam-focused update was rolled out with Google stating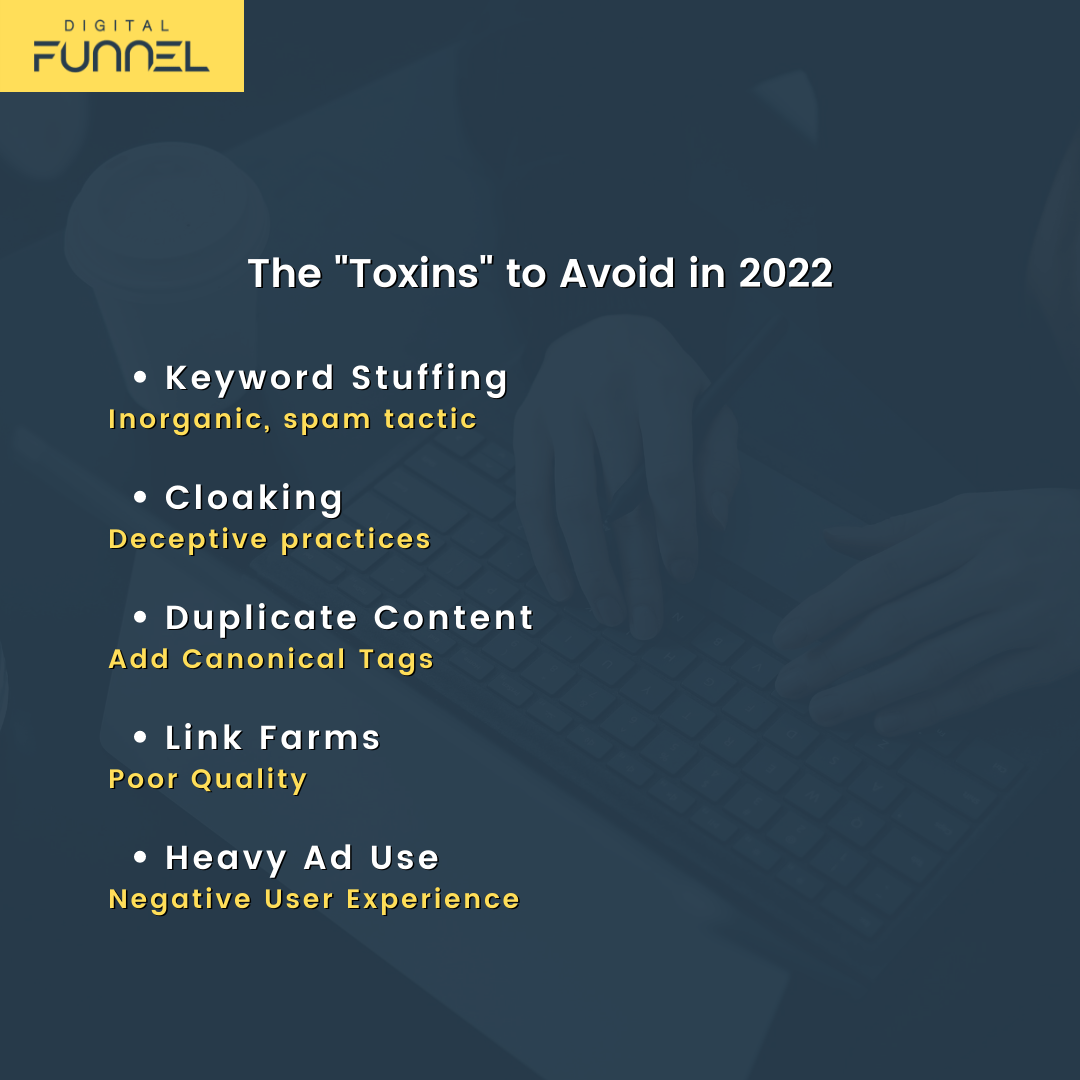 "As part of our regular work to improve results, we've released a spam update to our systems. This November 2021 spam update should be fully rolled out within a week. We encourage sites to follow our best practices for Search:"
Low-quality, spammy content is just no longer acceptable. So-called deceptive SEO methods are now being referred to as "toxins", practices that directly violate Google's Webmaster Guidelines
This will be one of the biggest SEO trends for 2022, so if you want to stay out of the firing line, here's what you need to avoid –
Keyword Stuffing – Don't overload your written content with specific keywords, it's inorganic and considered a spam tactic.
Cloaking – This is when you display content to the search engines which is ultimately different from what the user actually sees
Duplicate Content – You should never duplicate content, if there is a situation where you must, be sure to add canonical tags otherwise you'll face issues.
Link Farming/Schemes – Paying for links on third-party, farm-like sites is going to seriously impact your SEO efforts, mainly because these sites are of terrible quality.
Heavy Ad Use – User experience is a priority, so if you're bombarding a visitor with ads, their overall experience will suffer.
Voice Powered Search & Mobile First
Several years ago it was predicted that voice search would absolutely dominate the market by this point, while this hasn't quite come to fruition there are clear data to show that there are massive amounts of traffic coming courtesy of voice-based interfaces, with around 3.25 billion people currently estimated to be using voice assistants and voice-assisted searches globally.
Website owners may quickly answer customers' questions using voice search, increasing traffic to their landing pages. Searchers are clamoring for speedier answers, and this technology fills that void while also offering an appealing alternative to a web search.
If you're looking for a strategy to increase traffic to your website, voice search is the way to go. It enhances search engine result pages (SERPs) and improves the user experience. User experience is, of course, one of the most critical indications that Google emphasizes today for ranking. – Oliver Andrews, OA Design Services
With this in mind, it's important to shift tactics and adapt, and target long-tail keyword terms (especially local ones) as when using voice search most users tend to use a more conversational tone. Try and structure your content to feature snippets also as Google tend to present these more in voice search results.
"The increasing popularity of voice searches means that SEO will now have to pay considerable attention to optimally catering to inquiries through virtual assistants like Google Assistant, Alexa, and Siri. This will involve realigning your target keywords to match possible search queries. The trend will bring back the importance given to long-tail keywords and phrases, and preparing for it will demand a lot of creativity. Creating new posts or FAQ pages as optimized answers to these searches and coming up with innovative ideas to present this content in exciting ways will prove to be instrumental to your website's SEO success." Jase Rodley
In 2021, Google shifted priorities somewhat by introducing mobile-first indexing, which now means that Google mainly takes the mobile version of a web page for ranking and indexing purposes, so in simple terms, if your page doesn't load and appear well on a mobile device or features less content, you may drop in the rankings for mobile AND desktop. So how does someone tackle this?
Ensure your website is optimised for mobile and that it is as fast as it can be.
As mentioned above, try to tailor your content in order to snap up those featured snippet opportunities. Mobile users very rarely scroll down the SERPs and with voice search, users are only ever presented a single answer so get to work.
Video & Image Searching
Did you know that video is the number 1 source of information for 66% of internet users? With 2 billion users using YouTube, it cannot be ignored any longer. Google has also acknowledged video as a key indicator for SEO going forward, pages loaded with video content are now apparently 50 times more likely to rank compared to posts with static content only.
Since Google owns YouTube they've begun to prioritize video in the SERPs, often placing YouTube links at the top or in the top 5 positions. By integrating video into your web pages you can see a significant boost in organic traffic generated in comparison to your competitors who are not utilising this effective tool.
"You must build an SEO plan that involves video if you have not already done so. The fact is that online video platforms have exploded in popularity in recent years, and you may have noticed how many businesses are using platforms like YouTube and TikTok to communicate with customers and expand their reach.
Moving forward, creating optimized video content should be an essential element of your SEO strategy. However, how can video content be optimized? One method to do this is to make sure your video channel description is optimized by offering a user-friendly summary of what your channel is about." – Salvador Ordorica, The Spanish Group LLC.
Google truly values good quality content and relevance to a topic, that's why video has grown so important in recent years. If your website is providing a healthy mix of text, images and decent video content you'll be deemed informative and perhaps more importantly, varied, which will significantly boost your overall SEO efforts. If you want to find out how to optimise your content for SEO, check out our previous blog post 'Is Video Good for SEO?'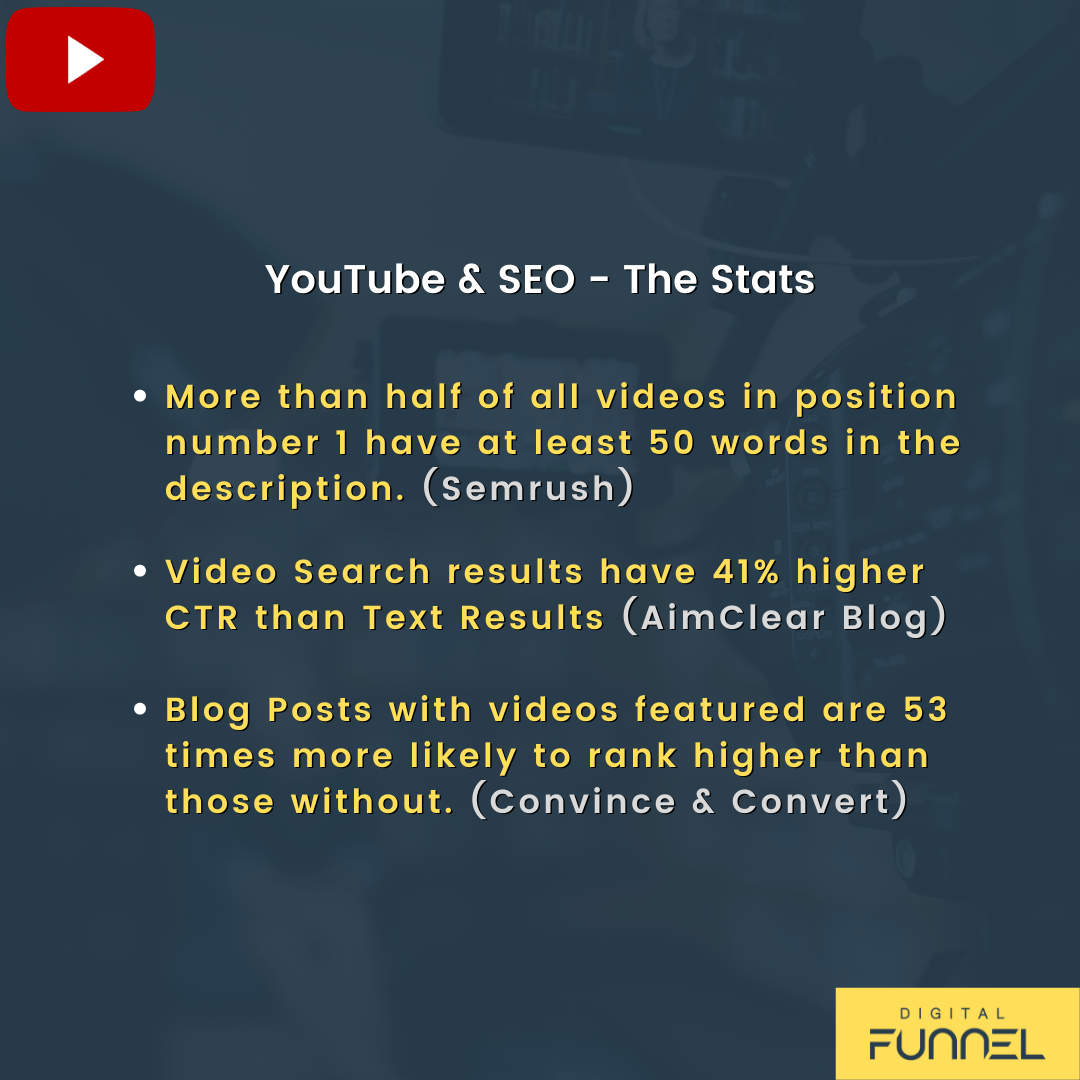 Similarly, image search is set to take the centre stage. As you've probably gathered by now, visuals are hugely important. But again, you need to ensure your images are optimised, otherwise, they are useless. The key points to remember here are compression, resizing, file format and your alt texts. It is a hugely beneficial process mainly because images help Google understand your web page and its content far more, which can boost your ranking. Compressed, smaller images contribute to faster load times and they also help with overall storage space on your server. Finally, user experience – When you alt-tag your images correctly you're assisting users who may have visual impairments and also helping if images don't/can't be loaded on a screen.
SEO Trends for 2022 – The Wrap Up
The landscape of SEO is always in flux, with ranking factors seemingly changing more often than the tide. However, the fundamentals are plain to see – User first design, high quality, relevant content and overall domain trust have been the key cornerstones of Google's criteria since the beginning. As you flesh out your SEO strategy for the new year, keep these key points in mind. Technical aspects of SEO may change multiple times throughout the year but the main principles stay the same. By prioritising customer experience above nearly every other aspect, you're almost guaranteed long-term success not just for 2022, but long-term.
Are You Looking For An SEO Expert?
Digital Funnel helps businesses rank their websites on page one of google. Would you like more traffic to your website? Are you looking for more leads? We offer the following SEO services at our SEO agency.
Get in touch today by email at [email protected] or phone at 021-2011993. We look forward to hearing from you.
Check out some more of our other blogs like how to write meta descriptions, how to increase website speed, the biggest SEO mistakes to avoid and common technical SEO issues? Or for more check out our blog section.