Integrating Email + SMS Marketing to Boost Conversions.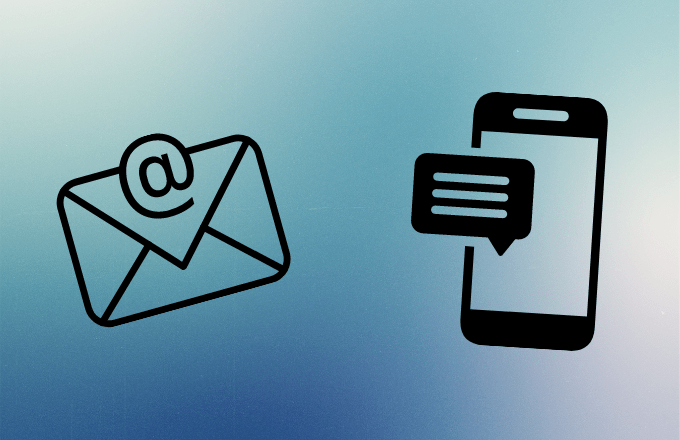 In the digital marketing world staying ahead of the curve is absolutely vital. Email is a tried and tested communication channel, but by blending tactics and adding SMS marketing to the mix, you've got a sure-fire mix to help optimize your reach and conversion.
Topics:
Integration
Changing Permission Landscape & Future Proofing.
Working in Tandem
SMS Best Practices
Helpful Hints
Integration:
How often do you use your phone to buy things? If you're anything like me, quite often. It's quick, it's easy, and you don't need to pull out the laptop and boot up everything — it's fast, simple and in the palm of your hand. 54% of eCommerce sales are predicted to be driven by mobile devices come to the end of 2021. Text marketing is going to grow in importance once again, it is a hugely useful call-to-action-based tool. It's lightning fast and direct, 90% of all text messages are read within 3 seconds of delivery — 3 seconds! Here's where it gets exciting, just below half of all consumers are now accessing their Emails via their smartphones so now is a great time to implement an effective 1–2 punch of SMS + Email campaign.
Changing Permission Landscapes & Future Proofing:
By now, most people are well aware of Apple's recent iOS update which is currently shaking the digital advertising world. Users are now being given a prompt in app regarding whether or not they want their activity tracked, meaning that online ads in their current form are presumably going to change in a big way. After announcing this move, Apple stated
"We believe that this is a simple matter of standing up for our users. Users should know when their data is being collected and shared across other apps and websites — and they should have the choice to allow that or not. App Tracking Transparency in iOS 14 does not require Facebook to change its approach to tracking users and creating targeted advertising, it simply requires they give users a choice."
Facebook & Co are actively campaigning against this move, claiming that Apple is significantly harming small business owners. During a recent quarterly earnings call, Facebook CEO Mark Zuckerberg noted that "we increasingly see Apple as one of our biggest competitors" and went as far as to accuse Apple of using its strong position in the market to push its own, in-house apps whilst actively harming Facebook.
Whilst Zuckerberg and Company are claiming that this move is bad for small businesses, the reality is Facebook is just protecting its own interests, with Forbes speculating the Social Media giant could lose as much as $8 Billion in the next 12 months due to this change, however, this is just speculation as no one truly knows just how much the global giants stand to lose.
So how does this play into Email + SMS marketing? Well because they're very clearly stated permission-based channels, users explicitly provide consent on both platforms in order for a business to communicate with them, this is going to become more important than ever in years to come.
It's an issue that is now coming to the forefront of people's minds more than ever before. Users are hyper-aware of their online privacy now and if consumers get even a whiff of a bad feeling regarding a campaign/ad, it's likely to permanently shift them away from a particular brand. With SMS marketing & Email, you're being clear and transparent from the start.
Working in Tandem:
What makes these two channels work so well together is the fact they are completely different. Email is a far more effective platform for long-form messages, press releases, newsletters, and product announcements — information-heavy pieces that are generally not uber time-sensitive.
In contrast, SMS can be used more as a short, succinct touchpoint that can drive conversions faster. Think along the lines of contests, reminders, booking/order confirmations, and limited product sales. You can strategically plan out SMS campaigns to drive interest and garner excitement, then the partnering email campaign will provide the full-length info.
A fantastic way to pair the two up is by generating email list leads via SMS. To generate email subs, unique SMS keywords for your target audience will work great.
Example: For Email opt-in, share an automated text to the SMS subscriber such as "Hey! Reply to this SMS with your email address to subscribe to our email alerts and receive a discount of 25% off your next order!" Once the consumer responds to your SMS with their email, you can then share an immediate response with them via email.
Also, it is very important to note, that mobile phones don't have spam filters! This is an element of SMS marketing that is often overlooked. Due to the fact consumers likely receive dozens and dozens of emails per day, spam filters are working overtime. Unfortunately, a significant majority of well-intentioned marketing emails can wind up in the e-mail purgatory that is the spam filter. This is simply the risk you run with emails.
In contrast, there are regulations in place that ensure when a consumer opts in to receive marketing messages via SMS they are allowed to opt out at any point. Therefore, SMS is a far higher quality channel and the ideal partner for email.
SMS Marketing Best Practices :
As previously mentioned, permission is key and is what makes SMS so effective — so ensure you have to get it before sending any messages. Customers can opt in easily via online forms or by simply texting a keyword to your chosen number — E.G. "Text DIGITALFUNNEL to 23541 to subscribe to our weekly discounts! T's & C's apply."
Be sure to check your list of numbers before launching any campaign. Remove any duplicates you see and also any numbers that could potentially cause issues — Landlines will inevitably cause issues and fake numbers will not reach the target destination. Also, if someone requests to stop receiving messages ensure to remove them from your mailing lists promptly.
As with most other things, less is more. Control how often you send a message to consumers, this is just as important if not more important as what you send. Keep the messaging clear, concise and to the point. Bombarding people with messages can cause annoyance and also detrimentally increase opt-out rates. Opt-out rates increase significantly when businesses begin to push out more than 10–15 messages per month.
Helpful Hints:
Stay adaptable & be ready to learn. If you find that certain language or words drive your subscribers to action, be willing and able to switch tact and push these newfound insights.
Lure them in with the SMS, and convert with the email. There is no magic bullet when it comes to this form of integrated marketing.
Grow your lists organically — encourage your emailing list to subscribe to your SMS notifications and vice-versa.
Get In Touch With Us Today
As one of Ireland's leading SEO agencies, we would be delighted to help your business get found online. Online visibility is vital in today's digital landscape. Our SEO agency offers a couple of services throughout Ireland. See some of them below.
Ian and the team also design and create websites. We have helped dozens of businesses produce an eye-catching and optimised website that converts. Our two options are an eCommerce web design and WordPress web design.
Some clients desire more than just web design or SEO and opt for the full package by adding Digital PR and PPC AdWords. These clients see the greatest results, leading to more site visitors and conversions.
If you have found this article interesting why not check out some of our other blogs like how to write meta descriptions, how to increase website speed and common technical SEO issues? Or for more check out our blog section.