Best Google Chrome SEO Extensions – Experts Comment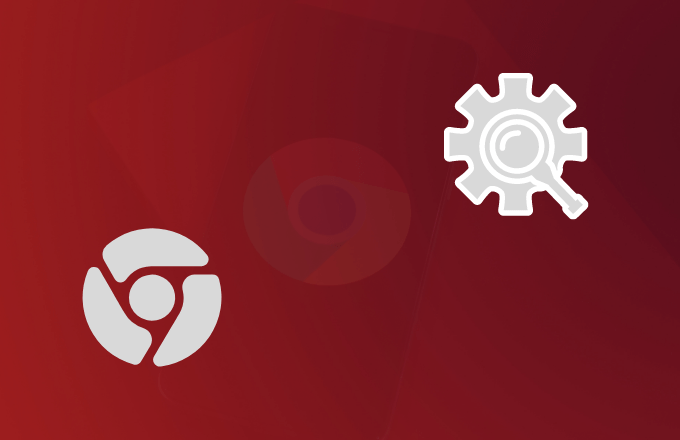 A good SEO professional's work is never done, but their work can be made easier with the use of some handy tools! We're all aware of chrome extensions, however, were you aware that there are some super useful Google Chrome SEO extensions available? Throughout this article, we've listed some of the very best as recommended to us by SEO Experts from across the globe.
"We balance a lot of clients on a daily basis so any extension that can may our workload that little bit lighter is a game changer. Chrome Extensions are a real game changer for us, with different options giving us quick and easy access to important metrics and information. Through compiling this article we've even learned of a few more super helpful extensions that we've all added to our browsers at Digital Funnel HQ, we hope this piece will be as useful to you as it was to us." Ian Carroll, Founder & SEO Expert at Digital Funnel
So, What Are Some Of The Best Google Chrome SEO Extensions?
Page Analytics – Google
2021's Page experience update impacted a number of sites globally as Google moved to really prioritise the user experience delivered by a website, that's why it's more important than ever to monitor your site's performance and have it running as smoothly as possible. Luckily for us, Google has provided excellent Page Analytics extensions that allow you to simply track hugely important metrics like bounce rate, page views, dwell time and active users.
Perhaps the most useful feature of this extension is the ability to watch data from your Google Analytics account without having to actually visit the dashboard, once you log into your GA account you then view the metrics in real-time thanks to the extension.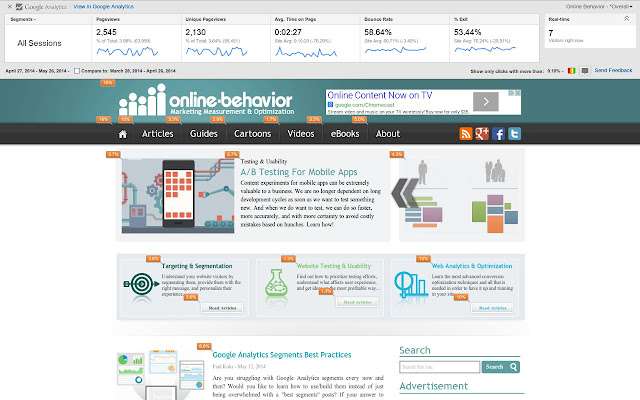 PageSpeed Insights
On this note, page speed was always important but in the past 12 months, it has jumped in value yet again. Slow-loading pages simply don't cut the mustard anymore, especially when you factor in the sheer volume of traffic that is coming from mobile searches.
Websites are now expected to load quickly, not just by users but by search engines also, if your site isn't hitting those times your ranking will suffer. The PageSpeed Insights extension is crucial, mainly because it shows you exactly what you need to change in order to improve loading time, also giving you an overall performance score.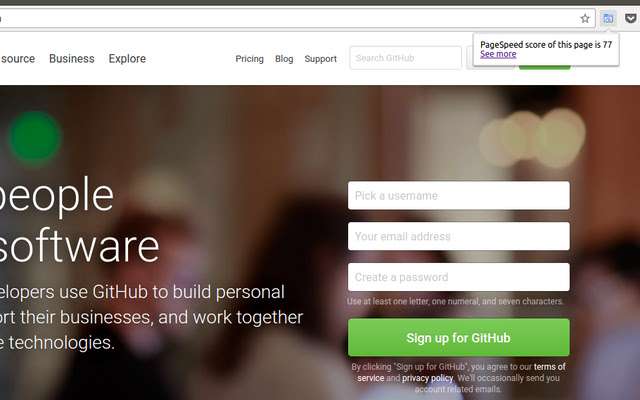 Ahrefs SEO Toolbar
The Ahrefs SEO toolbar is one of the most popular and effective Google Chrome SEO Extensions. The toolbar primarily helps by crawling the web and providing useful SEO information underneath each URL on the SERP. You can customise the tool to only show the most relevant metrics to you like Ahrefs domain rating, total backlinks, referring domains, traffic and more.
"Ahrefs is a tool I use pretty much every hour of every working day. This versatile tool offers insights such as keywords, DR ratings, link details and competitor analysis.. When doing research and outreach, the onpage feature is ideal for discovering high rated and successful sites, without the need to search each domain individually."  Annie Everill, Digital Marketing Executive at Imaginaire.

"The Ahrefs Toolbar is a free extension that includes an on-page optimization report, a broken link detector, and an HTTP headers-based redirect tracker. Additionally, you can evaluate a single page for information such as total word count, published and modified dates, title, and meta description. As a paying member of Ahrefs, you gain access to extra features such as keyword volume immediately on the search engine results pages (SERPs) and the opportunity to export reports. Both the free and premium versions are extremely robust, delivering an abundance of useful data to aid in your competitor analysis and keyword research processes" Jamie Opalchuk, Founder & CEO of Hostpapa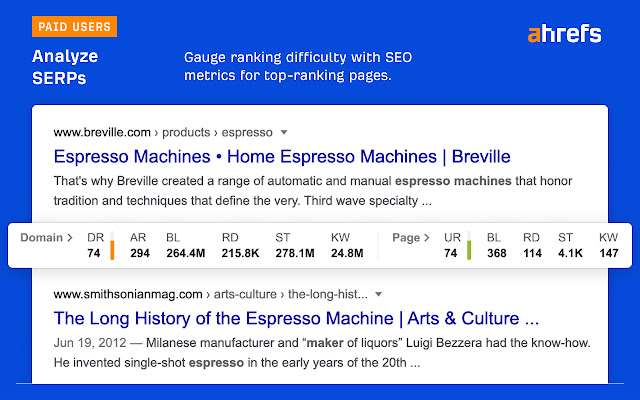 Free Backlink Checker – LRT
Backlinks, backlinks, backlinks – your outbound links matter hugely, so you need to cast a regular eye over their quality. This handy backlink checker from LRT is totally free and allows you to quickly see how many of your links are broken whilst also highlighting the amount of following and no-follow links you have in the back end.
This tool is extremely useful when engaging in on-page SEO work mainly because this Google Chrome SEO extension comes packaged with an on-page link code browser, which allows you to see the source code of a link and check out if there are any issues lingering, the links themselves can then be exported as a CSV or XLSX file allowing you to undertake a deeper analysis.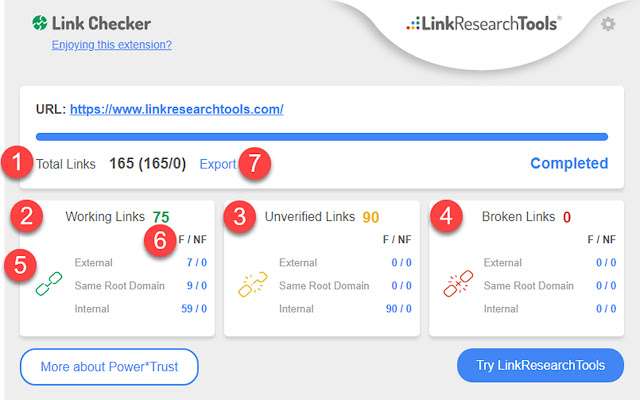 Hunter
Speaking of backlinks, manual outreach and link building can be laborious tasks. An expertly optimised website won't rank well without a quality backlink profile, simple as. Trawling through websites looking for email addresses and contact details is time-consuming, however, this hugely useful extension from Hunter eases the burden somewhat. Let's say you're on a website that you think proposes a good potential backlinking opportunity, you can run the Hunter extension and it will pull all of the contact details on the site making your job that little bit easier.
"As an SEO consultant my go-to Chrome Extension is 'Hunter'. 

It allows you to go onto any site and, if the contact details of the site owners, journalists, authors & publishers are on there, it will find them and allow you to copy their email address from within the browser. 

You can then paste that into a singular email or into a list to then mass-outreach to relevant publishers for link building purposes. 

It's perfect as you can often speak directly to the publisher, rather than via a generic contact form (and I've found my conversion rate for cold outreach has increased significantly since being able to reach out to the relevant publisher directly)." James Taylor of James Taylor SEO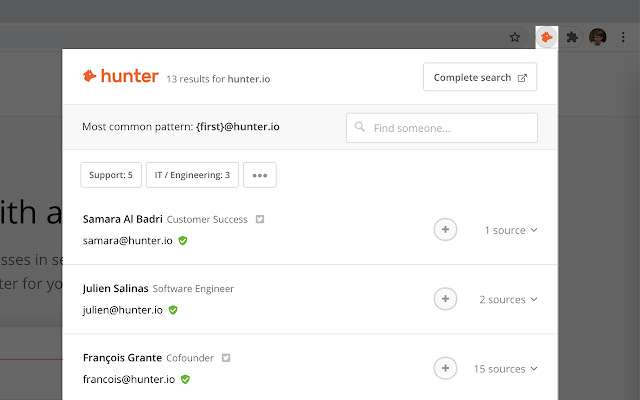 SEO Search Simulator
Obviously, we all know the benefits of SEO, and how it can drive powerful, targeted traffic to your website. These visitors can come from all over the world, however, the number of visitors you get can depend on how your site is ranking in certain countries. Yes, you may be ranking number 1 for the search term SEO Dublin in Ireland, but you could be on page 3 for the same term in the UK.
Google previously allowed you to change domains in order to search for a keyword in a different country, but they, unfortunately, removed this feature some time ago. Not to worry, however, the handy (and free!) SEO Search simulator from Nightwatch replicates the service.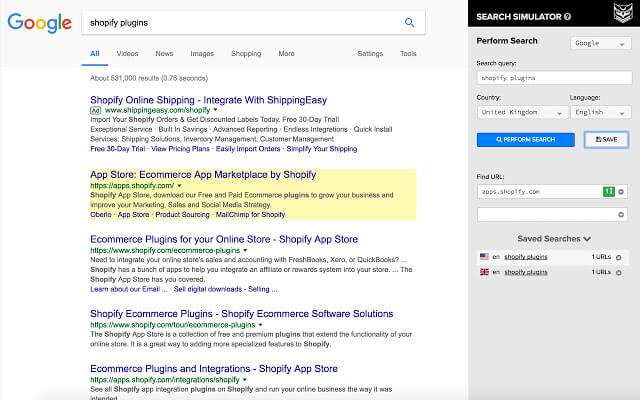 SEO Peek
Getting to page one is only half the battle, you need to secure a position there and stay there – How? Through dedicated on-page SEO work.
SEO Peek is a hugely useful extension that allows you to keep active tabs on the status of a number of on-page SEO factors of either competitor's websites or your own with the added benefit of not needing to fiddle with a site's HTML code. The extension provides you with heading information, meta tags, link tags and lots more in-depth SEO info.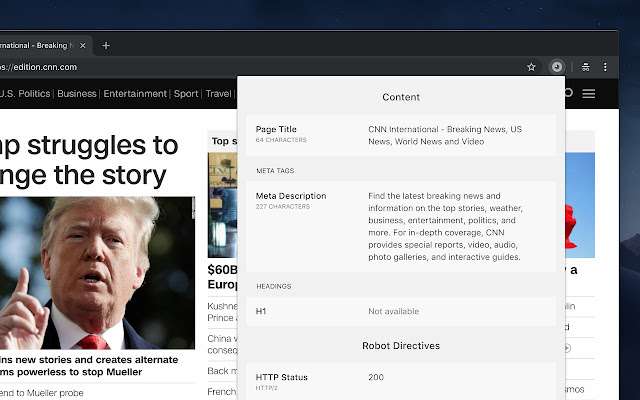 OpenLink Structured Data Sniffer
If you really want to your SEO plans to the next level, you'll need to examine and analyse the open structured data on your website. The good news is there's a great Google Chrome SEO extension for that courtesy of OpenLink. The Structured Data Sniffer allows you to access the usually inaccessible structured data of a website. Once access is gained to this information you can use it to your advantage to increase the chances of appearing in the various Google powered widgets. This can take a fair bit of work, but the reward is very much so worth it.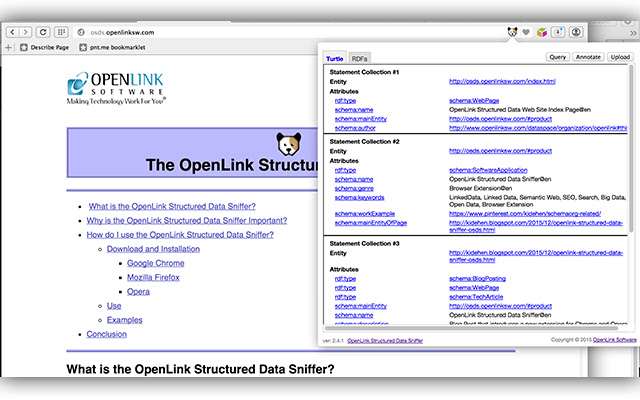 Tag Assistant
This is probably one of the most helpful extensions of this list, the Tag Assistant allows you to check the status of a list of various Google tags on your page whilst also doubling up as a hugely useful troubleshooter. Tag Assistant allows you to check if your HTML tags have been correctly placed in your site's code by analysing tracking tags and recording sessions – if an error pops up, you'll get a notification.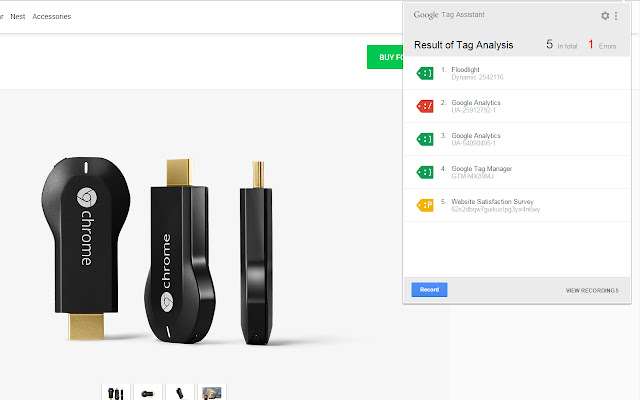 AMZ Suggestion Expander
Amazon SEO is a booming market, with keywords being absolutely essential. This Google Chrome SEO Extension from Productivity is essential for Amazon sellers, the tool expands the number of search suggestions shown in the Amazon search bar by actually providing you with the keywords Amazon would actually suggest before & after the keywords you've entered.
"The holy grail of SEO is transactional keywords, or in other words, searches which directly lead to a purchase. For example, "blue Nike Air Max for sale" is a transactional keyword because anybody searching for it is highly likely to make a purchase.But how do you find transactional keywords to optimize your website for? I recommend using the google chrome extension AMZ Suggestion Expander. AMZ Suggestion Expander utilizes the world's biggest eCommerce store, Amazon, to provide a long list of transactional keywords which you can apply to your own website.Simply install the extension, head over to amazon.com, and type in a general keyword to the search bar. The extension will then provide an expanded list of popular transactional keywords which you can export and analyze! This speeds up the keyword research process tremendously." John Butterworth, SEO Strategist at Viddyoze
SEO Quake – SEMRUSH
This is probably one of the most potent tools in the SEO expert's arsenal. SEOquake is easy to use and it works incredibly well whilst the extremely diligent team at SEMRUSH consistently rolls out updates and feature tweaks. The extension gives you critical data and an overall detailed site overview with the click of a button and even allows you to customise the tool according to your requirements.
"The external links number is especially useful to determine whether a page is linking out to external sites when I am prospecting – it helps me to know if the webmaster is willing to link to external parties or not. It is also a good statistic to see how diluted a page's link "juice" is and whether getting a link from that site will transfer sufficient authority to the website I am trying to promote." Matthew Rolfe, SEO Specialist at Plytix

"SEOquake is a free extension from SEMrush; it has many options. I use the diagnosis part of the extension to quickly check if sitemap.xml and robots.txt are present on a website and on-page elements such as headings and metadata. It gives the wanted results in seconds, saving a lot of time. " Hardeep Matharoo, Head of Digital Marketing at Best Response Media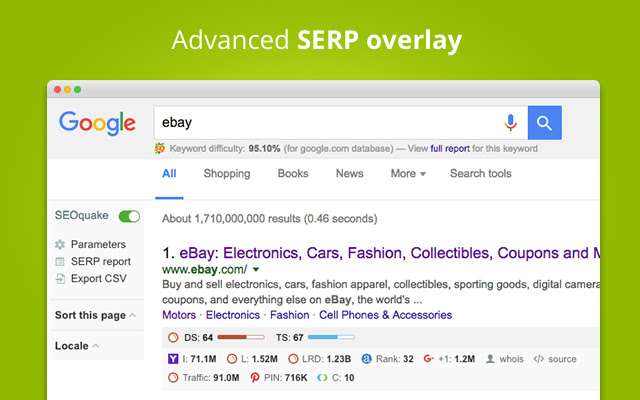 Keywords Everywhere & Keyword Surfer
Keyword-focused Google Chrome SEO Extensions are a dime a dozen, but finding one that works and works well is a different story. Keywords Everywhere is a hugely useful tool that displays three different variants of Google keywords; cost per click, Google Adwords competition and of course monthly search volume. The extension also allows users to see the estimated organic traffic and the top 5000 keywords for all pages on Google.
"I use Keywords Everywhere as a Chrome Extension. It constantly runs keyword checks for me while I'm researching topics on an ongoing basis. Super easy to use." – Christophe Trappe, Director of Content Strategy at Voxpopme

"I find this extension really useful for keyword research, it changes the SERP by adding useful information on keywords including related keywords, on-page and off-page difficulty, people also search for suggestions, trend data and loads more. Really revolutionises each SERP." Barney Hague-Wright, Head of SEO at Repeat Digital

"Keyword Surfer is a highly rated name in this area. It's also known as a handy tool since it immediately inserts keyword search data into the Google interface. It has a sidebar that provides similar keyword suggestions and volume beneath Google search results, as well as monthly traffic and keyword counts. Because all marketers, search and otherwise, should be undertaking keyword research on Google, but most don't have the time or resources to undertake a comprehensive keyword research project. This is a terrific tool if you want rapid statistics on what people are searching for around core products or services It's a simple approach to assess competition, widen your search strategy, and examine keyword density. Without Surfer's numbers in the SERP, Google appears odd to me." Adam Fard, Founder & Head of Design at Adam Fard UX Agency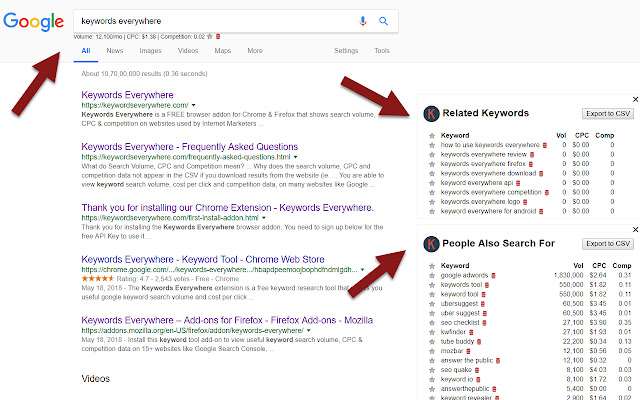 Moz Bar
We've all come across the Moz Bar in our time and it is indeed a handy tool. Domain Authority is a metric effectively made up by Moz, the higher your DA, the higher your rankings. This Google Chrome SEO Extension tells you the page and domain authority for any page at a glance. It is particularly handy when researching competitors in your field as you can quickly see just how well you are doing in comparison and also easily see their most authoritative pages.
"With this Google Chrome SEO extension you can easily check your website (Page, Blog Post) SEO issues (On Page & Technical SEO issues) including basic analytics and easily coverup or solve these SEO issues that will help you to boost your website." Joe Smith, SEO Lead at Market Media Connect

"MozBar is another SEO toolbar. It pulls a lot of the same information as SEOquake, Moz uses its own domain authority metric, and it's used pretty universally used in the industry as the standard for determining the authority of a website." Theola Tinney, CEO at VinPit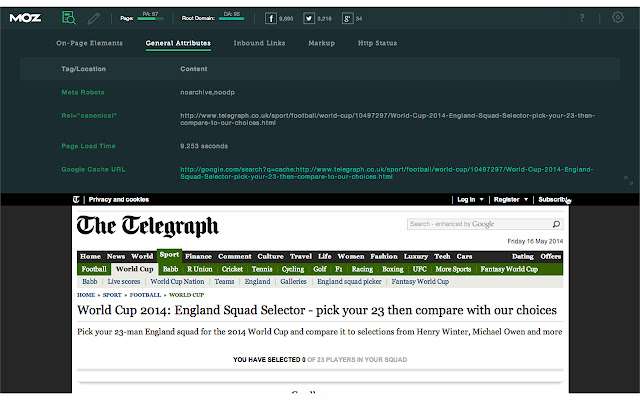 Get In Touch
SEO work can oftentimes be very laborious and time-consuming, however with these SEO extensions in your arsenal you can shave some precious minutes from your daily work, giving you more time to focus on the more important issues at hand. Be it Local SEO, National SEO or even eCommerce SEO, use Google Chrome SEO Extensions to your advantage.
Special thanks to all of our SEO Agency experts for their time and contributions.
If your business needs help with any other SEO extensions, don't hesitate to ask. Our digital marketing agency can help you no matter what part of Ireland you are living in, whether it is Cork, Tipperary, Galway or Dublin.
We have more digital marketing and SEO-related blogs available for you to read. Check out blogs like 'is video good for SEO', 'how to write a meta description' or learn how to avoid the biggest SEO mistakes.  If you have any questions about how we operate, get in touch today by emailing [email protected] or by calling 021-201-1993.