Festive Digital PR Campaign – Irish Backlinks & Their Importance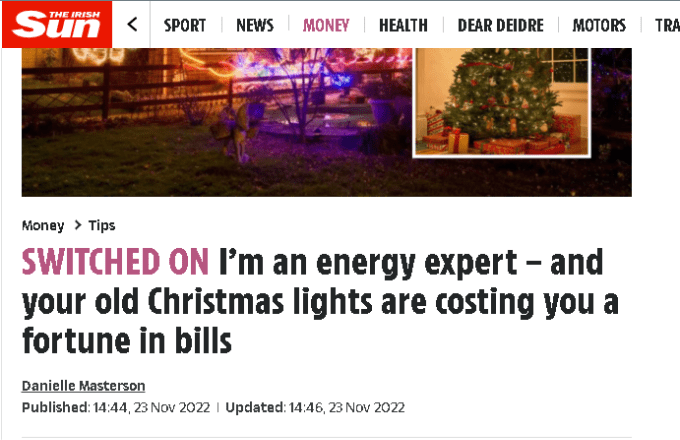 Tis the season as they say, and our latest Digital PR campaign has most definitely led to some festive joy.
Our Digital PR team recently compiled a campaign for our client, Wizer Energy, all about Christmas lights and the impact they have on your energy bills over the festive period.
"Rising energy costs are at the forefront of everyone's mind, especially now heading into Christmas when things can be particularly tight." Notes Digital PR exec, JJ Lee "We had the idea to examine just how much Christmas tree lights, LED rope lights and other decorations will actually cost you to keep on this December"
The Digital PR team worked closely with Martin Desmond of Wizer Energy to examine the numbers to form an informative press release.
"We targeted the Irish market primarily with this campaign and it's led to some fantastic results"
At the time of writing, this merry campaign has landed 10+ backlinks from the likes of The Irish Sun, Dublin Live, Cork Beo, iRadio, RSVP Magazine, whilst also garnering additional on-air coverage online from Newstalk, Today FM and a number of outlets in the UK & US.
"Backlinks from Irish sites like these for an Irish client are like gold dust – Backlinks are effectively a vote of confidence in your website, so when high authority, high ranking news sources in Ireland are giving you this vote of confidence for your Irish website, you're going to see your rankings improve" – Ian Carroll, Director, Digital Funnel.
If you're interested in exploring the world of Digital PR more, check out some of our other seasonal campaigns, we recently secured over 100 backlinks with this Halloween themed campaign.
Get in touch with our Digital PR team today to discuss how you can boost your backlink profile. As an SEO agency, we understand the importance of backlinks and use these types of campaigns to boost brand presence and keyword rankings.