Huge Number of Links from 1 Campaign – Digital PR at Work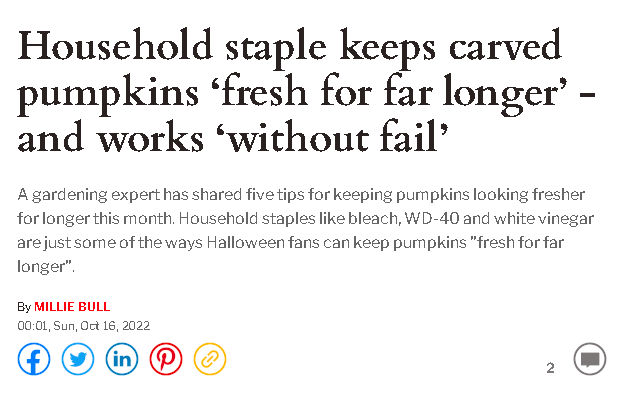 Spooky season is right around the corner and our Digital PR team have just landed a frightening amount of placements with a campaign all about pumpkins.
At the time of writing, this campaign has landed a massive number of links including features on MSN.com, Express.co.uk and Readers Digest.
We worked with our clients Atkins Farm Machinery to compile a list of expert tips on how to keep pumpkins fresher for longer this Halloween and targeted relevant journalists across the globe with our press release. The campaign has been running for just over a week and we expect more high DA, high traffic links to follow.
We've been working with Atkins on various projects for a number of years and previously we've secured placements on Yahoo News and local, Cork based publications in order to really drive relevant, local traffic back to the website. As a result of these various campaigns, Atkins has an incredibly healthy backlink profile – but why are backlinks important?
Backlinks are crucial since Google uses them as one of its main ranking factors. The backlink profile of a page is taken into account by the search engine's algorithm when deciding whether to rank it for a specific search phrase. A site's backlink profile includes both the quantity and the calibre of its links. In general, Google will rank the website or page with the most backlinks higher than other websites. In the simplest of terms, the better the backlinks, the better the SEO performance.
"Great, regular reporting; top notch communication and great results." – Joe Doherty, eCommerce Manager, Atkins Farm Machinery
If you're looking to boost your backlink profile and strengthen your brand awareness, get in touch with our Digital PR team today.