Finalists! Best Website & Best Transformation – Traditional to Digital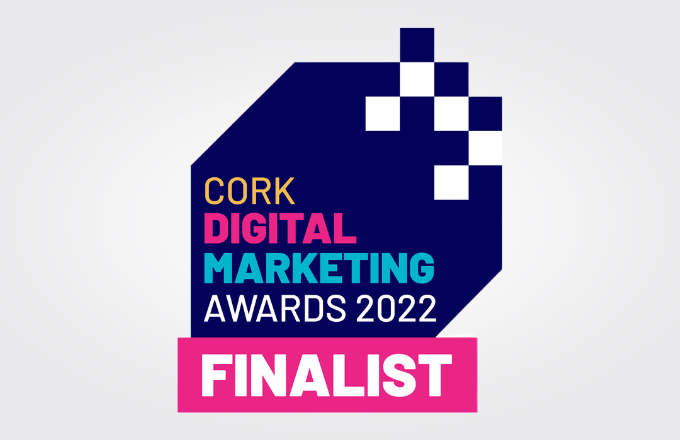 Digital Funnel are delighted to announce that we have been nominated in two categories as part of the 2022 Cork Digital Marketing Awards, organised by the Cork Chamber of Commerce.
In the past 12 months our team have worked diligently to launch our new website, which was introduced to the world in February of this year. It gives us great pleasure to share that everyone's hard work and effort has been recognised as Digital Funnel have been nominated in the Best Website Category.
"Delighted to have been nominated for Best Website as part of this years Cork Digital Marketing Awards. There were many long days and nights put in by the team to construct a site that would attract new business and ultimately, convert for us. It's been a great success"
Ian Carroll, Company Director.
Building a bespoke, custom built site was a massive priority for us at Digital Funnel. Having a visually appealing site is good, but having a website that is designed to convert is what makes it great. An expertly constructed website can be worth thousands to your business.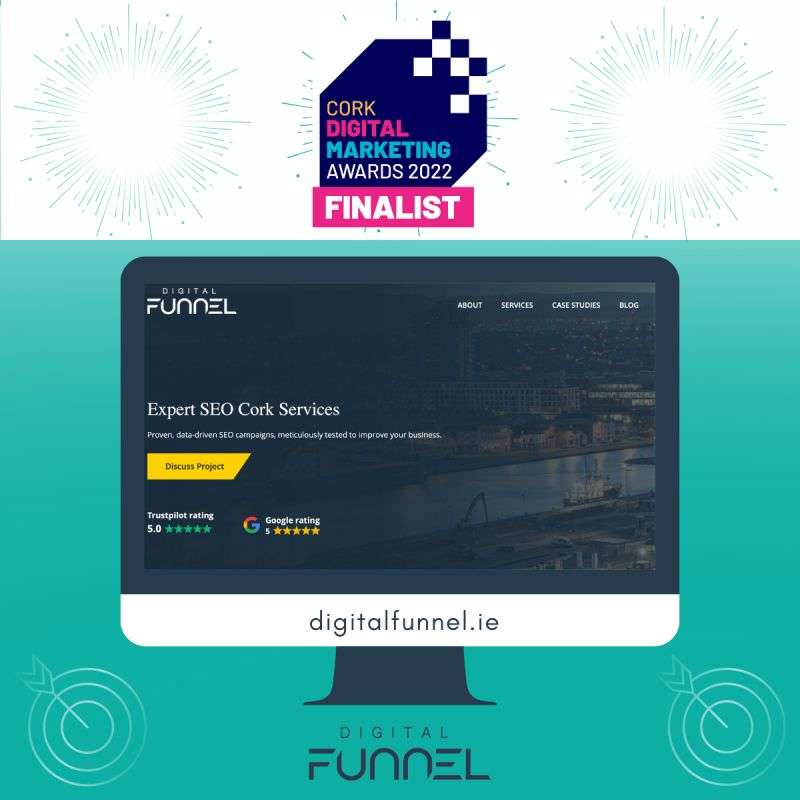 "You've always got to have an end goal in mind – It's all well and good to have a very pretty site, but if its confusing, poorly laid out and doesn't drive visitors towards a certain point, it's a waste of time. Your website should be working for you, think of it as another part of your sales team."
If you're thinking of revamping your website or building from the ground up, get in touch with the Digital Funnel Web Design team today.
On top of our nomination for Best Website, we've also made it to the final in the Best Transformation – Traditional to Digital Marketing thanks to our work with Wizer Energy.
"With the Wizer team, we needed to start from scratch and establish a strong online presence. First off, we built them a fast, informative website with a strong focus on lead generation. From here we began an extensive SEO and digital PR campaign to drive inbound valuable traffic to the site. This was complimented with an in-depth, highly targeted social media advertising campaign. These were the 3 cornerstones of the project, which has been a pleasure to work on and a great success" 
The strategy executed has worked wonders for the Wizer team. Website traffic has grown 430% in the past 12 months and more importantly, this is traffic that converts. For example, in the last 2 weeks of July the website generated 140 leads alone. At the time of writing, Wizer occupy the number 1 slot for the search term 'Solar Panels Cork' and the brand has grown massively thanks to Digital PR placements in online publications like Forbes, Metro.co.uk, MSN.com, Express.co.uk.
From having a very little digital footprint to now having a strong, lead generating online presence across multiple platforms is a huge transformation. Perhaps the biggest challenge the Wizer team faced was effectively future-proofing the business, getting ahead of the competition and placing themselves as the go-to organisation for solar panels in Cork and beyond.
"There is an overwhelming amount of information out there in relation to solar panels. Working with Wizer we've been able to create a website where potential clients can visit, get answers to their questions regarding how solar energy works, examine various solar setups, investigate payment periods, see case studies of previous works done and mainly educate themselves before ever even getting in contact with the team, which builds trust amongst potential clients, gets them informed and accelerates the sales process."
We now live in a digital first world, is your business as visible and prominent as it can be? Check out our Case Studies to see what we've done for other businesses across a huge variety of industries.
Get in contact with Digital Funnel today to see what we can do for you.