Russell & Co Accountants
Ranking number 1 consistently for 24 months.
Russell &. Co Chartered Accountants have been serving the businesses of Cork and beyond for over 40 years, When John reached out to us wishing to expand the organizations online presence, we put a plan in place to do just that.
The financial sector is an intensely competitive field, especially in larger cities like Cork and Dublin. When the Russell & Co team contacted us their digital footprint was practically non-existent, very little organic traffic which resulted in little to no leads coming in.
The aim is to drive large volumes of organic traffic to their website, whilst establishing a strong foothold on the first page of Google. More people than ever before are researching businesses online prior to engaging, so capitalizing and developing a steady stream of new business from this increased online activity was a priority. Prior to our work, referrals and word of mouth were the main lead generators for this firm – As commercial activity expands in Cork, it was essential for our client to establish themselves as the go-to in the accountancy field.
---
The Digital Funnel Strategy
On-Page SEO – Our SEO Experts liaised with the Russell & Co team and engaged in an intensive on-page program.  This included exhaustive keyword research which informed our bespoke content writing going forward.
Link Building – Due to the competition in the area, we formulated an extensive backlinking program to boost their overall site authority and increase trust signals, an integral indicator in this financial sector.
Technical Auditing – A full technical SEO audit campaign was also agreed upon so as to find, highlight and resolve any potential errors which in turn increases their websites overall performance.
PPC Ads –We also rolled out a series of Google AdWords campaigns to target a national audience for some very niche services that Russell & Co provide.
---
The Outcomes
Ranking No 1 on Google
The Digital Funnel strategy came together and significantly boosted Russell & Co's online visibility and overall positioning, as Russell & Co have now been ranking in the first position for the search term "Accountants Cork" consistently for the past 24 months, averaging nearly 500 monthly searches.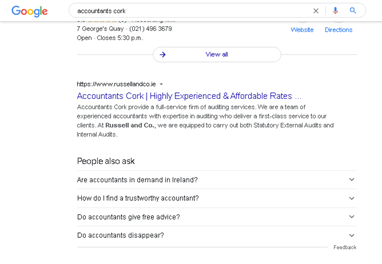 ---
Massive Boost in Organic Traffic
Driving excellent quality, organic traffic was a key point for the Russell & Co Team. Following our extensive on and off-page SEO work their organic traffic saw a significant 1930% increase from May 2019 to April 2021.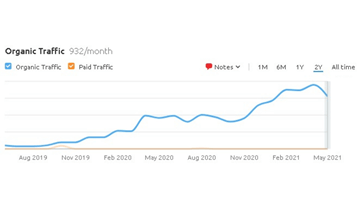 Link Building Successes –
Our Digital PR team successfully managed to secure some massive placements for the Russell & Co team, including a link on Yahoo Finance, a site with an authority score of 91 and a staggering 691.3 MILLION visitors per month.

"I started working with Ian and the Digital Funnel team in late 2019 with a view to overhauling our online footprint, which, at that point was non-existent. I found the team great to work with. All aspects of the project were outlined from the outset and I was updated as and when each milestone was achieved. The results for Russell & Co have been nothing less than fantastic. Ian is clearly an expert in his field and I would have no hesitation in recommending him, which I have done on numerous occassions." – John Russell, Managing Partner at Russell & Co Chartered Accountants.