The Best Keyword Research Tool for SEO – Experts Comment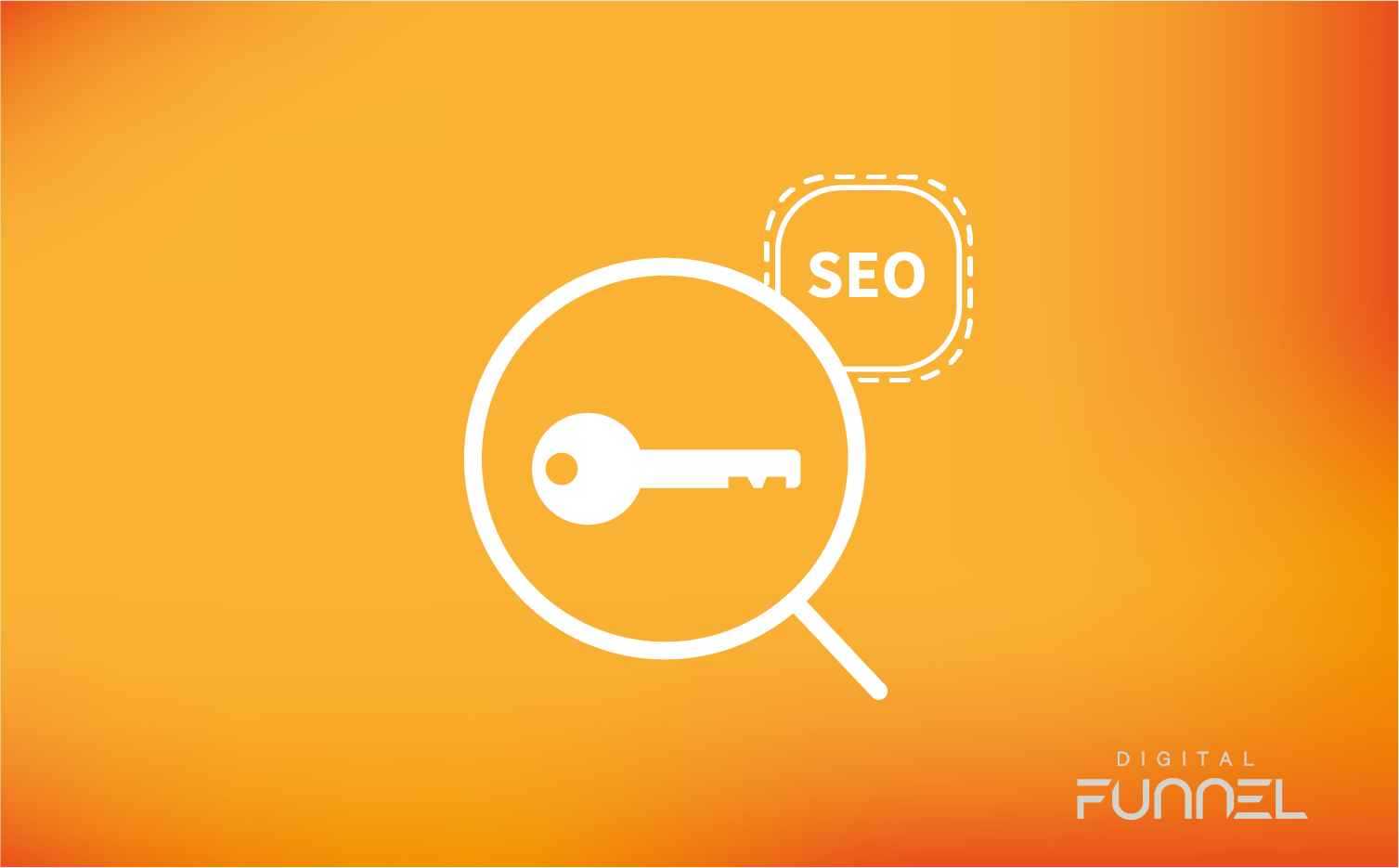 Keyword research is one of the most fundamental facets of a successful SEO campaign.
If you want to improve your sites SEO, you'll need to cherry pick the correct keywords, but how do you know what terms are right for you? You use keyword research tools.
To make life easier for you, Digital Funnel have collaborated with SEO experts from around the world to compile our top 11 list of the Best Keyword Research Tools for SEO.
"I've been doing SEO for over a decade, and I've seen tools come and go. I've also seen effective tactics come and go. "Keyword" research has evolved into "topic" research. Yes, keywords still matter, but not without building topical authority first." Notes Head of SEO at Momentic, Tyler Einberger
1. Semrush Keyword Magic Tool
This offering from SEMrush is probably the finest SEO keyword research tool available. Complete with a stacked, international database of over 20 billion keywords, the KW Magic tool makes an often-arduous task relatively straightforward. In March of 2022 SEMrush also rolled out a huge update relating to search volumes which made the tool even more useful.
SEMrush has the second most active crawlers in the world, only trumped by Google whilst also maintaining the largest keyword database accessible to users.
How to Use – If you've used a keyword research tool before, the UI will be relatively familiar to you. It all starts with your base or 'seed' keyword. So for example, we would use this tool to inform the topics we write about for our SEO blogs. If we wanted to write something about Meta Descriptions, we would input the term into the KW Magic Tool and grab an idea from the results.
There are a number of different filters available which can help you to narrow down your search, we find the Exact, Phrase Match or Broad match the most useful tools especially when it comes to generating content ideas.
"You can find niche-specific keywords in just seconds. One of the features my team finds most valuable is Keyword Magic Tool (KMT). This add-on for SEMrush organizes keywords I find into projects for my marketing campaigns. It also generates lists of keyword variations based on search volume and Google competition level." – Mia Garcia, CEO, iToolab
The Price – The KW magic tools offers a Free and a Pro option. With the free version you are allowed to make 10 searches per day. With the Pro account you can make 100 searches per hour and run 3'000 reports per day. This comes at a cost of around $120 per month.
There are a number of alternatives on the market however, some of which work best when paired with over tools mentioned in this list ;
"As a digital marketing professional, I've used virtually every keyword research tool on the market over the years. I found that SpyFu is a cost effective alternative to SEMRush, and works best when paired with an ahrefs subscription for backlink analysis/research, and Google's Keyword Planner tool for PPC Keyword research" – Michael Tedesco, Head of Digital Marketing, JSMT Media Web Design & Digital Marketing
2. Google Trends
Straight from the horses mouth – This handy tool from Google actually allows you to delve into real time search trends in order to view that search terms are trending across the world. It's an incredibly useful tool for SEO but can also inform content plans for Digital PR work.
"Another FREE tool offered by Google, Google Trends can help you find new keywords, look for related queries, and determine whether or not your keyword is becoming more popular" – Kath, SEO Strategist, Virtual Assistant
For example, if you wanted to build a seasonal ad campaign around Christmas time you could examine previous years Google search data and pinpoint exactly where interest spikes and plan your campaign accordingly.
Google provides this data by taking some unfiltered samples of legitimate, anonymized searches and sections it off by time, topic and location – making this an incredibly powerful tool.
As you can see from this data, searches for Christmas trees peak around the end of November year on year –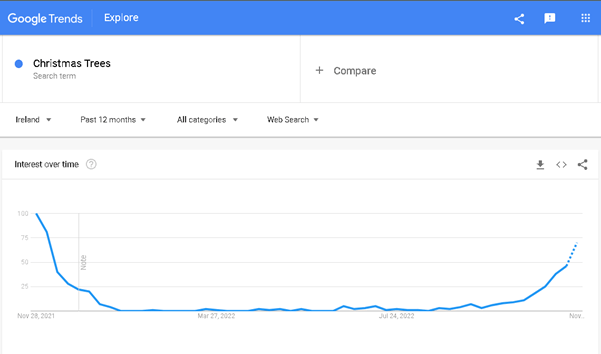 By far the most appealing aspect of Google trends however; it is completely free.
"By using Google's own tools you can deduce a lot of information and understand what kind of content Google is looking to rank. Search for the keyword and you'll see what other topics that Google is looking to answer on top of your query, what questions other people are looking to get answered with that query, what Google autosuggest is showing, what types of content show for that query and a lot more. 

Lay that information ontop of using Google trends to understand where the query is at in its trend cycle and you can have a powerful piece of information to build your content without ever looking at a monthly search volume. Monthly search volumes could fluctuate and have quite often (especially over the pandemic) so using your own skills of looking at Google's results and combining them with what Google is showing us already is a fantastic keyword research tool." – Jess Joyce, SEO Consultant

"Google Trends is a valuable tool for understanding the popularity of a particular keyword over time. You can see how often the keyword is being searched for, how much money it's earning for Google, and how much visibility it has on Google's search engine results pages (SERPs)." – Rick Costa, SEO Expert, Houselectric
3. TubeBuddy
TubeBuddy is a super useful browser extension for those who are specialising in video content creation. This handy suite of tools contains a powerful Keyword Explorer which can assist the search for relevant long-tail keyword terms.
"TubeBuddy has become a critical component of my video marketing strategy. Our company does not have many videos, but the ones we do have are fantastic. TubeBuddy's plugin provides an in-depth analysis of other videos' rankings and tags. We may spy on other firms' videos and take note of their tags, which we can incorporate into our own to garner some traction from their views. This plugin displays the metadata, tags, view counts, and other critical details for videos I'm watching but also assists me in creating metadata for my videos." – Jennifer Denehy, Marketing Director, PeopleSearchFaster
The Keyword Explorer also allows you to perform YouTube specific keyword research, pulling information both from YouTube and Google Trends. You'll need to grant the extension access to your YouTube channel in order to use it – once you've done this you simply just enter a keyword you're looking to target into the search bar and research from there. Nick Nimmin has pulled together a super useful video tutorial on how to use TubeBuddy here –
On this note, SEO Specialist Emaneul Petrescu adds his two cents on a specialised chrome extension – "One hidden gem is the chrome extension keywords everywhere. It's a keyword research tool that gives you a lot of information for free; you need to purchase credits if you want search volume and some additional information – which is by far a more affordable approach for many businesses that don't do keyword research every day – hence no need to pay for an expensive tool. You can also easily copy and paste them from the Search Engine Result Page to your spreadsheet, it shows long tail keywords and the trends (graphically), people also asked and everything an SEO needs to paint a more detail picture of what to expect. It works great for YouTube tags and video optimization as well and it's been my default tool for many years now – I got used to the SERP having the Keywords Everywhere integrated."
4. Google Ads
Although it is natively an advertising platform, it has a very powerful keyword planning tool baked in. The keyword planner allows users to research specific keywords and then place bids on them in order to rank at the top of the Google search results. There are a few caveats however, since the tool is primarily focused with PPC ads the KW planner hones in on paid ads rather than organic search data – It is still useful when used correctly.
Why is it useful? Because the information is coming straight from Google, who utilise their own historical search data in order to predict what you could expect when targeting a specific set of keywords.
"If you run broad or phrase-match keywords in google ads, you will soon notice a lot of similar keywords your ads show up for. That can be a goldmine for keyword and niche keyword research that main tools can't get you. Also if you sell products standards shopping ads will show for keywords similar to your products. Again a lot of niche keywords you wouldn't get elsewhere" Filip Silobod, SEO Specialist, Honest Marketing Ireland

 "It's important to experiment with different tools to see which one works best for you. For example, Google Keyword Planner is a great option if you're looking for high-volume keywords that are relevant to your business. However, it doesn't provide as much data on keyword difficulty or search intent, so you may want to supplement it with another tool" – Edward Solicito, CEO, To The Top Agency
5. Soovle
An extremely useful, free tool – Soovle is a very customizable search engine aggregator that harvests the search suggestions from a number of different search engines including Google, Bing, Yahoo and even sites like Amazon, Wikipedia, eBay and YouTube. You can filter through which engines you want to include in your search and easily compare long-tail keyword suggestions from a number of platforms.
"Soovle is a useful tool, but you should understand that it doesn't offer metrics like search volume. It does, however, provide keyword suggestions, which can help you to identify relevant keyphrases to include in your marketing campaigns." – Deepa Jatania, Media Head, E Intelligence.
6. Keyword Tool
Keyword tool is quite similar to Soovle as it also pulls in autocomplete data from a number of sources so you can target long-tail keywords. It also gives a unique angle as it specifically focuses on long tail keywords that are not visible in Google's own Keyword Planner. You simply select the country and specific search engine you want to target, then enter in your seed keyword and the the Keyword tool will offer up a number of autocomplete data based off of your search. There are free and paid accounts available, the free account will allow you to generate 750 suggestions per keyword. Pro versions cost around $69 per month and allow you to access twice as many keywords and more.
"keywordtool.io is probably the most in-depth keyword tool on the market. It allows you to choose from a range of different search networks and gives you the most amount of relative keywords that I have seen from a keyword tool. Another great feature is the ability to search for keywords based on your competitor's websites. It's helped me to find a wider range of suggestions for keywords or searches that are similar, allowing us to create more unique content around terms that are sometimes missed." – David Hartshorne, Founder, wecann.
7. Question DB
This tool works slightly differently to the other tools mentioned here as instead of placing an emphasis on keywords, it highlights the questions people ask on forums and websites. If you are in the business of creating blog content or other informative pieces, QuestionDB can be of great use as an aide for content ideation. The tool comes packed with a massive database, pieced together from sources like Quora, StackExchange and Reddit. Shape your content to answer the most asked questions online. Simply input your keyword into the tool and you will presented with a list of questions that QuestionDB has crawled. Again, this is another free tool that offers up the first 50 search results for free, if you want to use the tool more regularly there is a Pro option available with unlimited searches for $15 per month.
8. Also Asked
If you're involved in SEO or content marketing you'll be aware of the importance of the People Also Ask tab – AlsoAsked is a tool that compiles this data from Google in an accessible format so you can discover what users are actually searching for. When it comes to generating new ideas or potential keywords to target, this is a goldmine. AlsoAsked will only return results relating to the seed keyword you input, keeping things relevant. For example if you search for Digital PR in Ireland here's the results –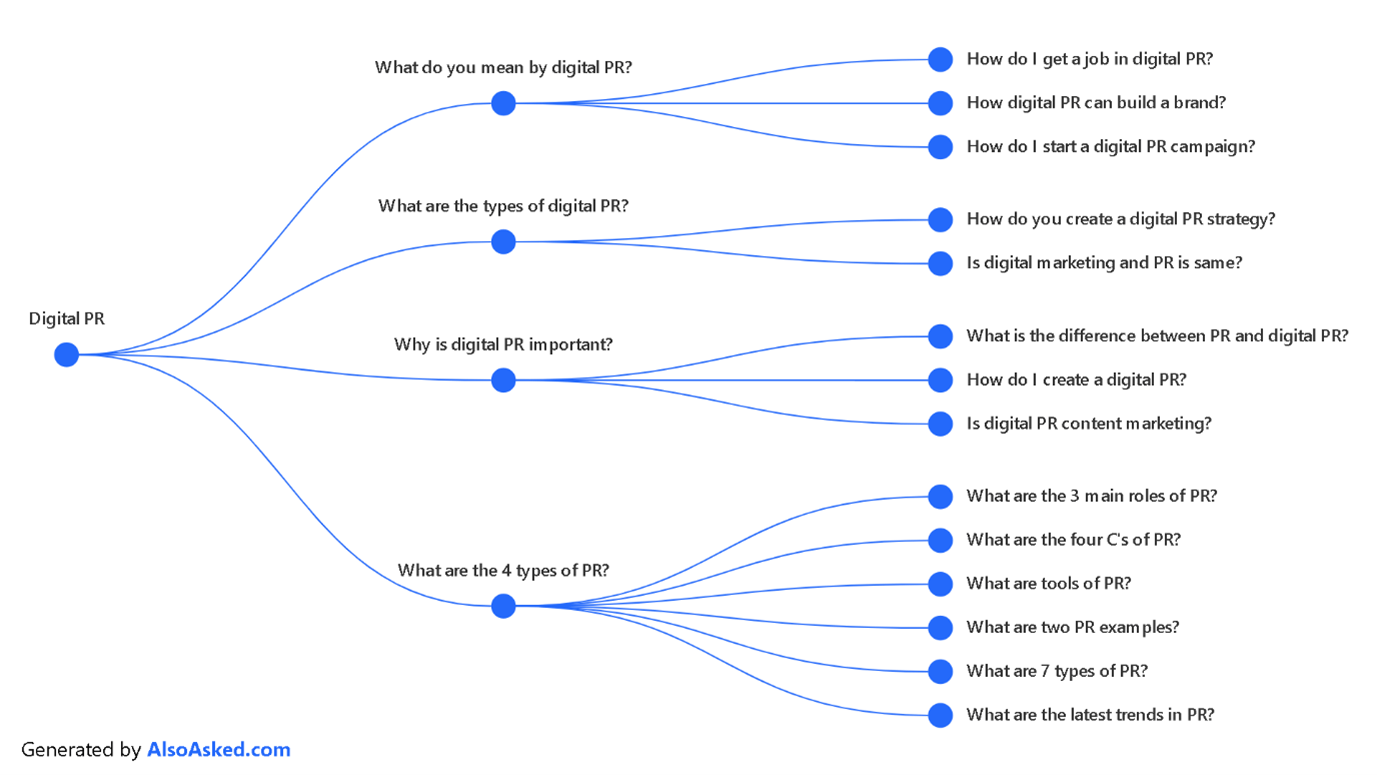 All of these branches can be explored further too, an extremely useful tool for content generation. AlsoAsked is currently in Beta, so all users have full access to the tool. When the product fully launches there will be a few tiers, but the free option  will allow you to perform 10 searches per month.
"As an SEO expert, I have been using a great keyword research tool which is "Also Asked". It's obvious that traditional keyword research tools, like Ahrefs and SEMrush, show several indicators, like keyword difficulty, search volume, etc. about the keywords. Even they show similar keywords/and some long-tail versions. However, "People Also Ask" questions help us to find what users exactly search, which questions they are interested in, which answers they mostly need." – Mehriban Atakishizada, SEO Specialist, Simply Fixable
9. AnswerThePublic
Autocomplete suggestions can be a powerful weapon in the SEO arsenal if examined correctly, AnswerThePublic allows you to do just that. Using autocomplete data from both Google & Bing, this tool can help you identify specific phrases and questions that your audience may be searching for.  Seed keywords are inputted and results are represented in thematic cloud forms. Again, this tool can be used for free but there are also pro plans available for $79 per month. The $199 per month package allows you to add unlimited users and put in place specialist search listening alerts.
"AnswerThePublic works at bit differently from other keyword research tools. They present the keyword in the nice visual format although you can see it in the list or download in .csv format. Are you new to SEO and want to do keyword research? Then, it's a great tool to try, as you don't need to sign up in order to use it.  Keyword results from it are based on Google and Bing's auto-suggest / autocomplete features. Click on any of these keywords for Google, and it'll open up in a new tab." – Bonny Rathod, SEO Exec, Global Vincitore

"AnswerThePublic is more than just a keyword research tool; it's also great for brainstorming ideas for content marketing campaigns or blog posts. The service collects questions people ask about certain topics online and produces results in an easy-to-digest visual format, making it easier to spot trends and develop compelling topics for articles that will capture user attention." – Jamie Irwin, Director, Straight Up Search
10. Keyword Wizard for Amazon
Another Semrush entry, but a highly useful one all the same. As we all know, eCommerce SEO is booming and this tool is essential for properly optimising your product listings on the Amazon marketplace. When you enter your seed keyword you will be provided with relevant keywords much like the keyword magic tool, with phrase match, broad match and exact match all available. Your results can then be exported as a CSV file for your convenience. With a free Semrush account you're limited to only three keyword searches per day, which only provides 100 results, you also won't be allowed to export. For unrestricted access, you'll need to sign up for their Growth account which is priced at $50 per month.
11. Authoritas
The Authoritas SEO platform distinguishes itself with an array of unique features that truly set it apart from more familiar SEO software tools. One standout feature is the Market Share/Content Strategy tool.
This tool performs advanced keyword and content gap analysis on a great scale. It can automatically cluster keywords into topical groups across millions of keywords, a task that's no small feat – even currently beyond the capabilities of systems like Chat-GPT!
The Market Share/Content Strategy tool offers more than just standard keyword comparisons. It sifts through and analyzes an enormous database of commercial keywords and SERP results in 50 countries, giving users the ability to contrast their industry-wide Google performance with an unmatched level of precision.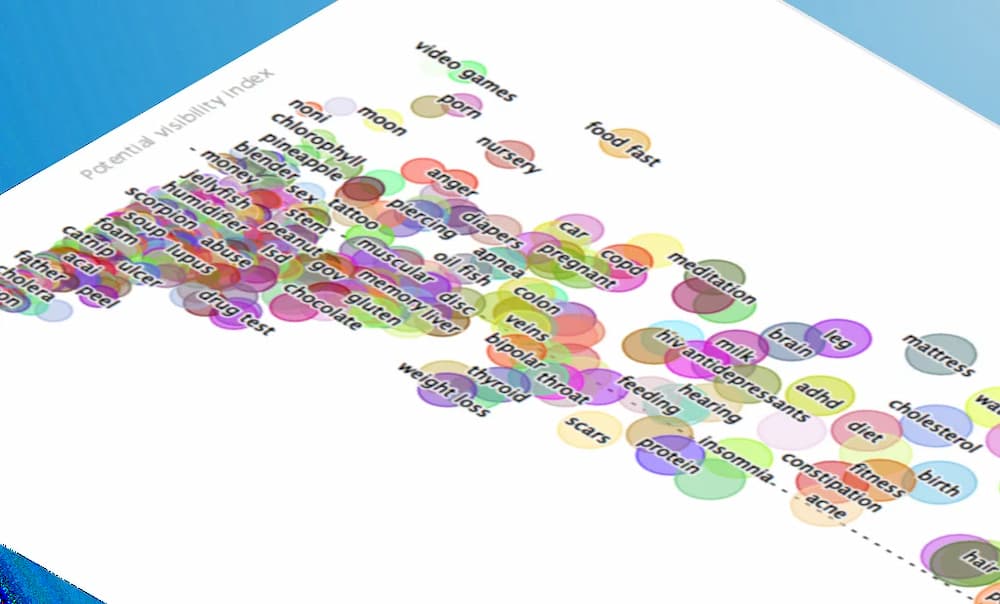 Whether you are a B2B, B2C, or DTC site, this tool can give you data-driven insights into the best topics and pages to optimise to drive organic traffic and sales and automatically suggest new content topics to create and keywords to target. It goes the extra mile by allowing users to analyze specific competitors' data, providing insights into their share of the market, backlink strength, top-ranking pages, and highest-performing keywords.
In conclusion, the Market Share/Content Strategy tool within the Authoritas platform offers a revolutionary approach to SEO. It presents a compelling case for anyone looking for an SEO platform that breaks away from the norm and sets a new standard for market analysis and competitive gap analysis.
The Wrap Up
As you can see, SEO professionals are spoiled for choice when it comes to keyword research tools – whether you're engaging in local SEO, eCommerce SEO or just undertaking an overall SEO Audit, keyword research is an integral part of any campaign. Some of the tools listed above are also incredibly useful when it comes to informing PPC Ads campaigns or giving you a jumping off point for your latest Digital PR effort. We'd once again like to thank all of our contributors for giving their thoughts on the best keyword research tool available today, for more expert SEO tips check out our previous blogs posts including the Best Google Chrome SEO Extensions.